Funeral held for fallen Montgomery Co. officer Noah Leotta | News
GAITHERSBURG, Md. (WUSA9) -- Family, friends and the community gathered Tuesday to say goodbye to fallen Montgomery County police officer Noah Leotta.   
Calling hours were held Tuesday afternoon for 24-year-old Leotta. 
Leotta was hit by a car while working on a drunken-driving task force. He died in the hospital nearly a week later.
Friends of Leotta were surprised when the Olney native told everyone he wanted to join the county police force but took comfort knowing he died doing what he loved.  
His funeral Tuesday was held at the "Covenant Life" Church, in Gaithersburg. He was later laid to rest at the Judean Memorial Gardens in Olney. 
An hour before the funeral, Montgomery County residents began lining the streets of Downtown Olney to pay their respects.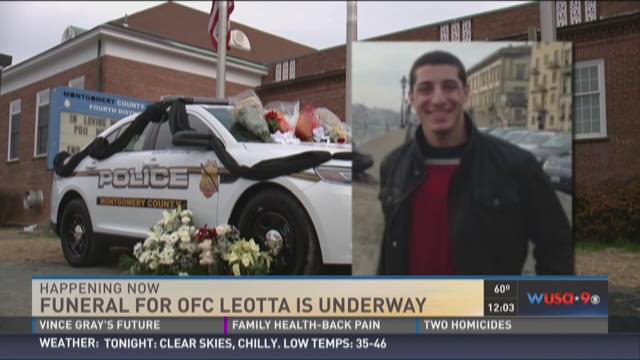 PREVIOUS: 
Mentor of fallen officer supports call for tougher DUI laws in Md.
"I just wanted to pay my respects to the officer. He was doing his job. And didn't deserve it," Steve, an Olney resident said. 
Strangers lined side by side to honor the fallen officer with a contagious enthusiasm for police work and an ever-present smile.
Hundreds of police officers also came to say goodbye to their colleague. The Covenant Life church was filled to capacity with those who knew him and those who had only felt his impact. 
Police closed several streets for the funeral procession. 
Next Wednesday, Montgomery County Police will hold a blood drive at their headquarters in Gaithersburg to honor Officer Leotta. Information on how to pre-register for the blood drive can be found here. 
Like this story? Like WUSA9 on Facebook. 
PREVIOUS STORIES:
Mentor of fallen officer supports
call
for tougher DUI laws in Md.
Md.
police
chief says 'little chance of justice' in officer's death
Montgomery Co. officer hit by suspected drunk driver has died