1 year later, Hoggle children remain missing | News
GAITHERSBURG, Md. (WUSA9) -- As of Tuesday, Jacob Hoggle and Sarah Hoggle have both been missing for a year.
Monday marked one year since Jacob Hoggle, 3, was last seen. His sister, Sarah was last seen a year ago Tuesday.
PREVIOUS:
Catherine Hoggle returns to court in Sept.
Jacob Hoggle was two-years-old when he was reported missing from the Gaithersburg area in September 2014. His sister, Sarah Hoggle was four-years-old at the time of their disappearance.
The children's mother Catherine Hoggle is charged with abduction, neglect, and hindering the investigation in the disappearance of the two children.
Both families gathered at Arora Hills Local Park in Clarksburg to publicly express gratitude for all the report they've received in finding the children.
"I look at it as more determined than ever," Lindsey Hoggle, Catherine Hoggle's mother and the grandmother of the two children said. "We're gonna keep looking till we get the answers."
Since being taken into custody, Hoggle has been receiving treatment at a psychiatric facility. In the past, she has been found incompetent to stand trial.
A status hearing for Hoggle was set for September 18 at 9 a.m. It is not clear whether or not she will be back in court on this date. The court appearance will depend on her treatment and the judge says a decision will be made closer to the date based on how she is doing.
Lindsey Hoggle says she's been talking with her daughter between 4-5 times a day since April.
"She is very clear that she was aware of what she was doing a year ago," Lindsey Hoggle said.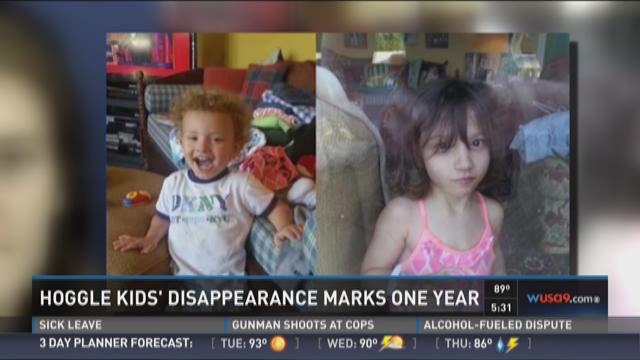 Montgomery County State's Attorney John McCarthy says there is still a process that needs to be followed.
"Urgency is not a legal urgency so much as it the urgency that we have as human beings to make sure that people who loved these children know what actually happened to them," McCarthy said. 
The family continues to plan searches for Sarah and Jacob Hoggle. If you like to volunteer, you can find out more information on a Facebook page they've created.
Like this story? Like us on Facebook
RELATED:
Catherine Hoggle remains incompetent to stand trial
Police continue search for missing Hoggle children